Princess Aqualtune Ezgondidu Mahamud da Silva Santos was a warrior who led 10,000 men into the Battle of Mbwila in 1665. This battle was between the Kingdom of Kongo and Portugal. Kongo at the time was the current day, Northern Angola, Republic of Congo, western part of the Democratic Republic of the Congo and Southern Gabon.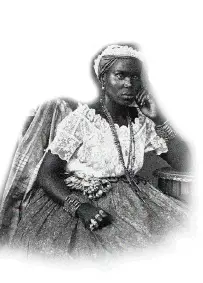 Kongo at the time was a vassal state of Portugal, and this war was meant to prevent the Portuguese from taking more control of Kongo than they already had.
About 5,000 men died in the war, while the survivors were captured and sold as slaves. Many of them crossed the sea into Brazil and other Portuguese controlled countries.
Among those captured were the King of Kongo, his two sons, two nephews, four governors, court officials, workers in the kingdom and hundreds of aristocrats.
Read Also: The Story Of Breffu, A Female Slave Of Ghanaian Descent, Who Led The Longest Lasting Rebellion In West Indies In 1733
After the Battle of Mbwila, the princess was transported to the Port of Recife, a warehouse and sugar mill. It is documented that the princess was purchased solely for the purpose of reproduction with other slaves.  When she became pregnant, the princess was sold to a mill in Porto Calvo, Brazil.
Princess Mahamud was later enslaved at a sugar cane plantation alongside her brothers,  Ganga Zumba, his brother Ganga Zona, and their sister Sabina. Soon Sabina bore a son, Zumbi.
Together they formed their own kingdom of Quilombo dos Palmares, a home for slaves who had escaped. Their kingdom controlled the large areas of northeast Brazil during the Dutch-Portuguese War.
Zumbi succeeded his uncle and became the king of Palmares, and leader of the rebellion until he was killed in 1695 by the Bandeirantes, after which their kingdom was destroyed. Today, Zumbi is considered a national hero in Brazil.
Read Also: Anta Madjiguene Ndiaye, A Senegalese Princess Sold Into Slavery Who Became A Wealthy Plantation Owner In Florida