The Duchess of Sussex, Meghan Markle is sure not afraid to get political. And she has shown this in several ways. The latest being her speech on women's suffrage in New Zealand.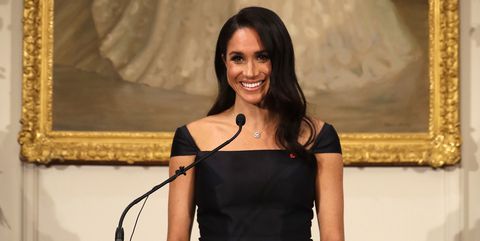 In the speech which she gave at the end of her 16-day tour of New Zealand, it was clear that she wanted women to come out and vote. She said,
The achievements of the women of New Zealand who campaigned for their right to vote, and were the first in the world to achieve it, are universally admired," she said. "In looking forward to this very special occasion, I reflected on the importance of this achievement, but also the larger impact of what this symbolizes.
She also went on to say that,
 Because yes, women's suffrage is about feminism, but feminism is about fairness," Meghan continued. "Suffrage is not simply about the right to vote but also about what that represents: the basic and fundamental human right of being able to participate in the choices for your future and that of your community, the involvement and voice that allows you to be a part of the very world that you are a part of.
Now as America went to the polls in Tuesday's midterm elections, it is unclear if Meghan Markle voted or not. Meghan Markle, 37, grew up in Los Angeles and, though she currently going through the years long process of applying for British citizenship, she remains a U.S. citizen.
She was in quite a hell of a situation as her grandmother-in-law, Queen Elizabeth, doesn't vote according to the royal family's website and is seen as neutral with respect to political matters; hence she doesn't vote during elections.
Also, most senior members of the royal family don't vote. However, People reports that the Duchess's office at Kensington Palace would not say if she voted or not in the U.S's midterm elections.
According to People, "No comment" is all they say.
Senior members of the royal family under convention usually don't take up their right to vote. But the duchess's office at Kensington Palace won't elaborate on whether she has voted in the U.S.'s midterm elections. "No comment," is all they would say.
Any which way, we are very clear on Meghan Markle's stance on voting. She once wrote in 2016 on her personal blog which she ran that "The right to vote is something for which blood, sweat, and tears have been shed; the struggle was endless for us to have this liberty," wrote Meghan, who was filming her legal drama in Toronto at the time.
Read Also: Settling in as Duchess of Sussex: Meghan Markle new rules to follow

The Urban Woman Magazine Editorial Team is made up of seasoned writers and editors who have a keen eye for detail and a passion for all things urban. We strive to create fresh, original content that appeals to the modern woman. Our mission is to provide a platform for women to share their stories, experiences and opinions on various issues affecting their lives.