She is known to many of her fans in Nigeria as Bongi, the teenage singer-songwriter in the MTV Base series, SHUGA. In this interview with Urban Woman Magazine, South African actress, Mohau Mokoatle-Cele would be sharing her experiences not just as an actor, but also, with being on set, in Nigeria.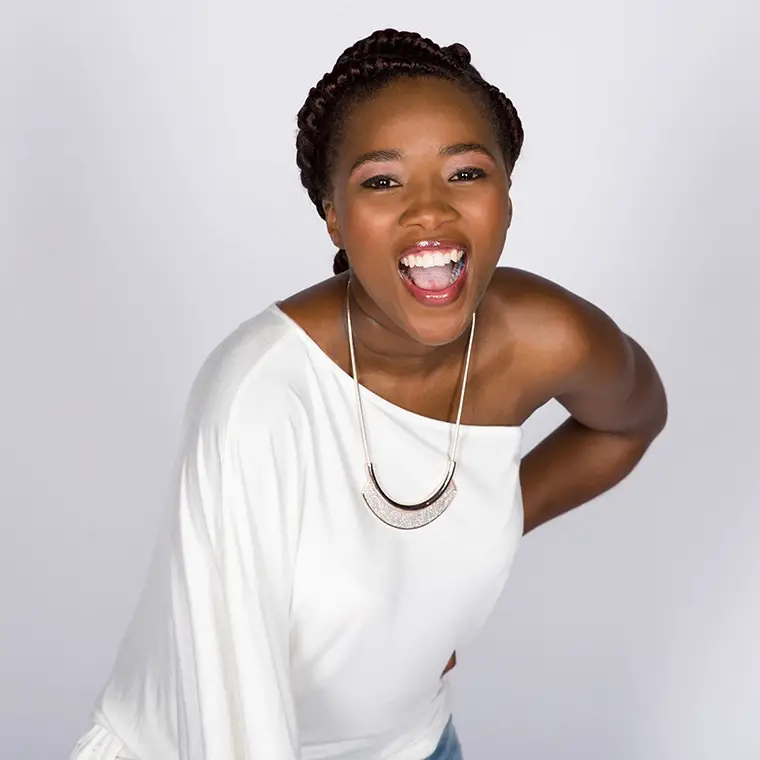 How did you begin your journey into acting?
 I can say it's the clichéd story; I've always loved performing as a child. My family saw the talent too I guess, they also made sure that I perform a poem or a song at every funeral or wedding. I knew those years when I was on those stages performing that this is what I want to see myself doing "when I grow up" I want to be on stage!

You studied dramatic arts, when did you decide that you wanted to be on TV?
 
The funny part is that I never thought I'd be on TV, I always preferred the theater and thought I'd be doing theatre forever. I still don't think I have that typical TV look that everyone seems to be going for and I only happen to find myself on TV because my agent sends me to TV auditions more than theatre.
 What was it like the first time you were on set?
Well I was in Nigeria at that time. It was my very first professional set where I was actually in front of the camera and not behind. I was nervous and very insecure. I feel like I put unnecessary pressure on myself as I thought to myself, if I make one silly mistake everyone is going to think these South African wanna be actors are just wasting their time. I was also nervous because obviously I'm from a theatre background and what if everyone feels like I'm too theatrical. So it was a double portion of nerves heightened by the fact that I'm acting for the first time in another country!

Describe the experience of being part of the MTV Shuga cast especially being on set with people from different parts of Africa?

I think at first I found it really frustrating to be put on a 'spot'; I felt like I've never even worked with locals and I'm being put on the spot light and forced to adapt to different cultures and ways of doing things. However when we filmed Shuga DS I actually appreciated the fact that we are all coming from different parts of Africa and we are actually one as Africa, we have the same stories, same challenges just different accents and food preferences lol but I then started thinking to myself why do we even have boarders because hey we are one man…

How would you say being married has affected your career?
Well I'm all home I don't know. I can't imagine my life outside my marriage, I don't even know if I'd be acting if I wasn't married because my husband constantly pushes me and encourages me to audition. I hear him mention my career in prayer almost every day and he prays I get the breakthroughs I ought to get and those that the Lord has ordained specifically for me. I'm still thinking of how to answer this question. See almost all my friends in this industry are unmarried and you are sometimes unconsciously expected by the industry and your peers and just the pressure of the industry and the way things are structured to behave unmarried.
The roles the that are being offered especially for young  people 'never' accommodate the married ones. Yes you are married but you are still very much expected to kiss another man on screen as if unmarried. I guess it's that thing of when in Roman the Romans expecting you to do as they do even if it's not your intention or desire. 
Read Also: Why I am drawn to children exposed to domestic violence – Pelumi Shittu

You have had the chance to experience life in Nigeria, how different would you say it is from South Africa?
Well the country is very "God" conscious; their food is very "peppery", the Nigerian streets feel safer than those of SA but either than that like I said earlier we are all the same hey. Our interests, music, like there was never a time I felt like can I go home, they don't have this or that here, they don't do this or that.

What are your dreams in the acting industry?

To keep focused. I know you were expecting me to say to be winning an oscar and all, that will happen when and if it ought to happen but my dream is to continue working on my skill, to take on each character and be different and better every time. The Bible says your gift will make room for you. My responsibility is to just make sure I use my gift as to which king it puts me in front of is Gods responsibility. My dream in acting is to be the best I can be, is to be better than my last performance.

 Who is your Favourite actor in Africa and abroad?

Abroad: Meryl Streep and Africa: Vatiswa Ndara

Where do you see yourself in five years?

Sister I see myself eating anything I want anytime I want it. I see myself monied!!! Lol may that be my portion in Jesus name. But yes I want to run my own production company one day.  Tell my one stories and actually cast myself without the stress of being rejected at auditions.
Read Also: How Nobel Peace Prize Winner, Nadia Murad Escaped After Being Kidnapped By ISIS

The Urban Woman Magazine Editorial Team is made up of seasoned writers and editors who have a keen eye for detail and a passion for all things urban. We strive to create fresh, original content that appeals to the modern woman. Our mission is to provide a platform for women to share their stories, experiences and opinions on various issues affecting their lives.