The Makoko community in Lagos which lies at the edge of the Atlantic Ocean draws the attention of anyone passing over the Third Mainland Bridge. One can hardly go through the Third Mainland Bridge without noticing this community. I got the chance to visit Makoko and was amazed by the businesses being done by the women of Makoko on water.
First off, to access the community of Makoko, one has to pay five hundred naira for a canoe which would transport you into the inner community which is at the edge of the ocean. To talk to them, you need a translator. The people of this community hardly speak English as their means of communication is mostly Egun, Yoruba or French.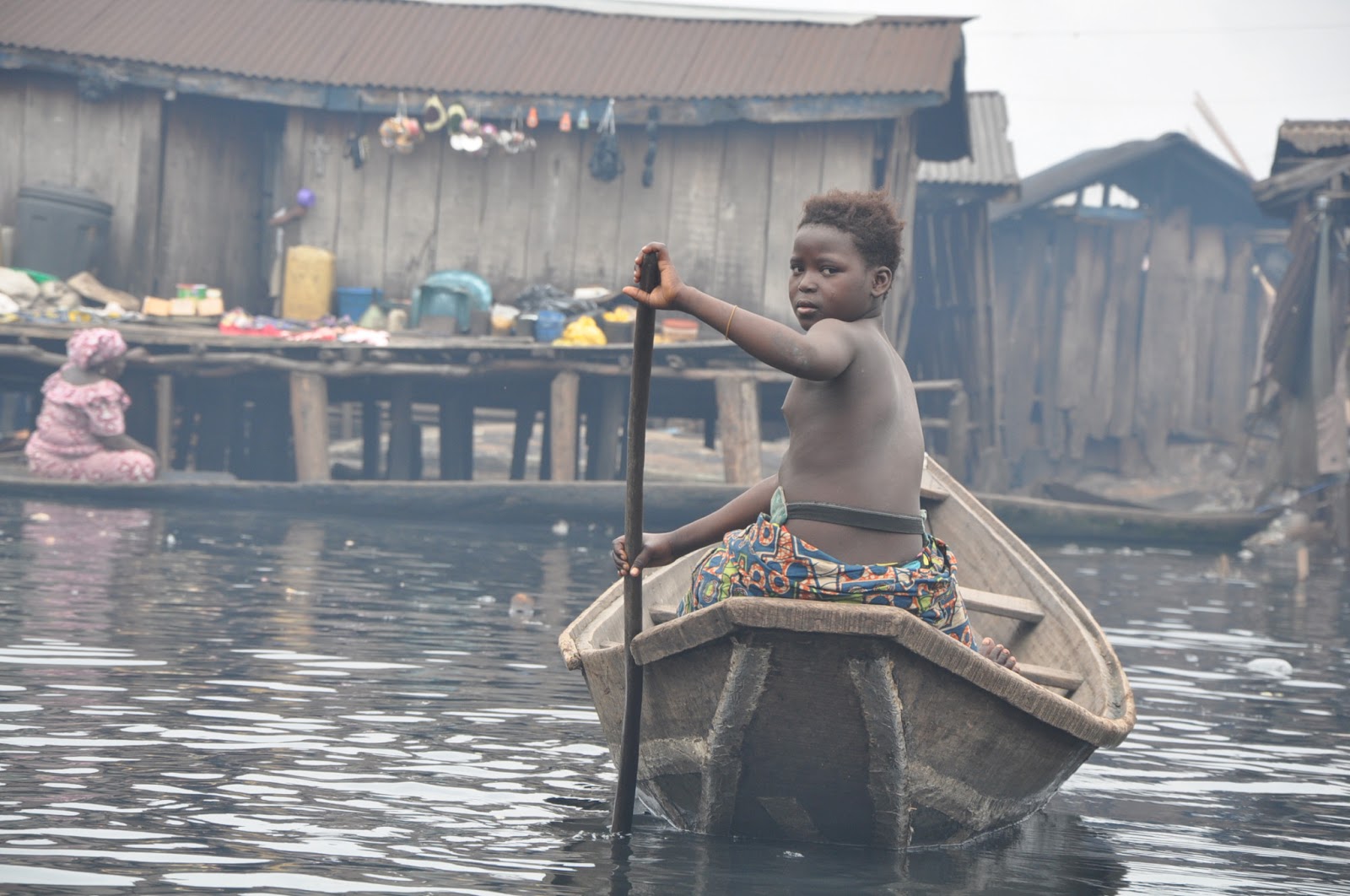 From afar, one wonders how the community built on water survives, but going into the community, it is apparent the way commerce thrives. In the past, there have been moves by the government to demolish structures present there. However, the people there would rather the government renovate the structures and improve their standards of living rather than demolish it totally.
Morenike (not real name) has been living in Makoko for more than 30 years; in fact, she grew up there and got married there. She makes a living from preparing smoked fish harvested from the sea. According to her, her trade is a very lucrative one and she sells her fishes to women who come with their canoes to buy in wholesale quantities and take to land to sell.
Ayeni (not real name) owns a supermarket, but the interesting part of the supermarket is that it is on a canoe which she alone paddles from one point to another to sell her goods. She says she has two children who attend a school where they teach only French in Makoko. As she struggles with balancing the canoe, one cannot help but notice how her wares never fall off the canoe no matter how bent the canoe is.
She sells anything from toiletries to cold drinks which she brings from land to sell on water. She is not the only one who sells her wares on canoe as one can see up to 5 women pass by at different times with their canoes and wares as you go from one point to another.
Read Also: #NoMore: Why These Sexual Assaults Must Not Be Covered Up! By Ireti Bakare-Yusuf
These businesses pale in comparison to the wood market. The women in this business are involved at various levels. Though it is extremely rare for women to be part of the groups that travel to various forests to get these logs of wood, they are involved in the conversion of these logs of wood into commercial wood that are used for different purposes.
Abidemi (not real name) tells the story of how she has been in the sawmill business.
She says,
I first started out selling smoked fish, because that is what I grew up selling. I met my husband here; we got married and moved out of Makoko. After a while, I came back here, to start my business in collection of saw dust which I sell to people outside Makoko.
She was not the only one involved in collecting the saw dust; many other women also had the business of collection of saw dust. Another woman was involved in selling big logs of charcoal. She explained that she sold it to people who came as early as 5:00am to buy these products.
Far from what the outsider may think, commerce moves on normally as though the occupants were on land. With little children paddling canoes away into the open sea and laughing at me as I could barely sit still on the canoe.
Going further down towards the exterior of the community, one could see a woman on her sewing machine, peddling away furiously in her small house. When asked how business was for her here, she said, "I get customers, or people who want to amend their clothes."
She seemed more receptive to the questions, so we asked how the community got drinking water seeing that the environment was dirty as water from their bathrooms and toilets went straight to the water below the houses.
She answered saying,
There are pipes that bring water for us. We rarely have outbreaks of water related diseases.
I went on to ask how the women in the community gave birth or coped during pregnancy, and she said there were midwives who lived among them and who offered delivery service. She also added that they hardly have complications during the deliveries. Though, I am skeptical about the truth of this because of the surrounding which is far from conducive.
Just as this conversation was ongoing, her neighbor switched on his generator, bringing to my notice the fact that they had found ways to cope with power supply.
Written by Blessing Iyamadiken
Read Also: Ifeoma Fafunwa is changing mindsets through theatre

The Urban Woman Magazine Editorial Team is made up of seasoned writers and editors who have a keen eye for detail and a passion for all things urban. We strive to create fresh, original content that appeals to the modern woman. Our mission is to provide a platform for women to share their stories, experiences and opinions on various issues affecting their lives.