Isabel Dos Santos is famous for being the first African woman to become a US dollar millionaire  and also becoming the richest woman in Africa. She was born on the 20th of April, 1973 in Baku, Azerbaijan SSR  to Angola's former President José Eduardo dos Santos and attended an all girls boarding school in Kent, Cobham Hall School. She studied electrical engineering at King's College in London. There, she met her husband from Zaire (now Democratic Republic of the Congo), Sindika Dokolo, a son of a millionaire –  they got married in 2002 and have 3 kids.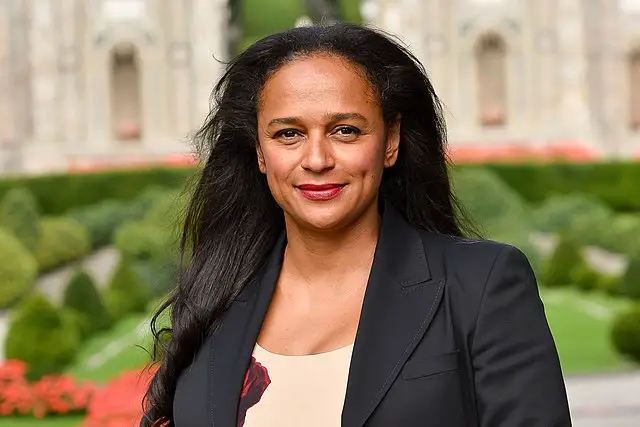 Isabel is a businesswoman with a net worth of over  US$2 and this wealth comes almost entirely from her family's power and connections according to Forbes in 2013. In 2015, she was named by the BBC as one of the 100 most influential women in the world.
Upon returning from London in the 90s, she began her career working as a project manager engineer for Urbana 2000, a subsidiary of Jembas Group. In 1997, she started her first business,  the Miami Beach Club  which is one of the first night clubs and beach restaurants on the Luanda Island. For nearly 20 years, she expanded her business interests, and held management positions in a number of companies listed on European stock exchanges. She has made several substantial investments in high-profile enterprises, especially in Portugal. In June 2016, she was appointed by her father as the chairwoman of Sonangol, the Angolan state oil company. However, she was fired by  João Lourenço, the new Angolan President, two months after being sworn into office.
Isabel Santos is a woman with her finger in almost every pie including telecommunications, media, retail, finance and the energy industry, both in Angola and in Portugal. She also has interest in oil and diamonds as well as owns shares in the Angola cement company Nova Cimangola. Through the Netherlands-based Unitel International Holdings BV,  a company controlled by Isabel dos Santos, she is the largest shareholder of ZON Multimédia with 29% since July 2012. She is also a member of the board of Angolan bank in Lisbon, Banco BIC Português and through Santoro Holding she holds 20% stakes at Banco Português de Investimento. 
Recent investigations have suggested that Isabel dos Santos acquired her wealth at the expense of the Angolan people. The Angolan Government has, since 2018, been trying to prosecute Isabel dos Santos for past corruption crimes that may have led to Angola's ongoing recession crisis. However, she remains in exile in Portugal. On 30 December 2019, the Luanda Provincial Court ordered the freezing of dos Santos's Angolan bank accounts and the seizure of her stake in local companies. Dos Santos has denied the allegations against her and described the charges as "…trumped-up charges … which were based on fabricated documents." She describes the seizures of her assets as a "politically motivated attack".
The Angolan government has also began the process for the confiscation of her properties in Portugal in the form of a report  sent to Portugal. The report – which it called Luanda Leaks – provides evidence of how she "made a fortune at the expense of the Angolan people".
Chisom Anastasia Nwaezuoke is a physiotherapist, writer, public speaker and yogi. She is also a sexual health and reproductive rights advocate and volunteers for HandsOff Initiative.