Today the world's most coveted crown would be put on by a woman who would become the winner of most beautiful girl in the world, Miss World 2018. This year, the beauty pageant would be taking place in China, where India's Manushi Chhillar, 2017 winner would crown her successor.
The 118 beauty queen have been gathered in Sanya, China, since November 9th 2018, competing for points to get them into the fast track selection at the main event.
This year marks the 68th anniversary of the competition, since its beginning in 1957. In 1970,  Jennifer Hosten was the first black woman to be crowned Miss World, and in 2001, Nigeria's Agbani Darego was the first African to win the pageant.
Public voting was opened by Miss World Organization on November 20 for people to register and vote for their favorite contestants.
22 African countries are competing in the Miss World 2018 beauty pageant and they are listed below.
Aimee Caroline – Cameroon
22-year-old Aimee Caroline has a Bachelor of Science Degree in Commercial and Business Marketing and is currently studying Business Law with ambitions to qualify as a Lawyer or become an accomplished Company Manager. She enjoys fitness, golf and cooking and listening to music by Ed Sheeran.
Nelma Ferreira – Angola
Nelma Ferreira is 20 years old and in her second year at University studying for a Business Management Degree. She hopes to continue her education by studying languages. She has a special talent for cooking traditional Angolan food and for performing traditional Angolan dancing. Nelma has a passion for basketball and likes to learn new things she also likes listening to relaxing music in her spare time.
Silvia Adjomo Ndong – Equatorial Guinea
20-year-old Silvia Adjomo Ndong Ada is currently a student and would like to become a journalist, but has dreams to pursue her special talent and become a singer. As well as singing, she also enjoys dancing. Her proudest day is the day of her First Communion.
Moitshepi Elias – Botswana
24-year-old Moitshepi's proudest moment was having completed her Bachelor of Science Degree in Finance. She is currently working as an Account Manager and has ambitions to grow her supplies company to international levels. She enjoys swimming and listening to traditional Setswana music as well as performing Setswana traditional dance. Moitshepi's biggest fear is repeating the same mistake twice. She has a pet Boerboel dog called Surge.
Mony Helal – Egypt
Having completed her Degree in Mass Communication, Mony is currently working as a Director of a Consulting Agency and aspires to lead a Multinational Company. She enjoys horseback riding, skydiving, scuba diving and belly dancing. Mony also plays the violin. She has a pet dog called Kiki and her favorite food is Japanese.
Sollyana Abayneh – Ethiopia
Miss Ethiopia is 22 years old Sollyana and her proudest moment was when she obtained her qualifications to continue her dreams of studying Civil Engineering. She enjoys traditional African and Ethiopian dancing and drumming and also has a special talent for basketball tricks.
Nana Ama Benson – Ghana
23-year-old Nana's proudest moment was when she graduated from University with a Bachelor of Science Degree in Nursing. She enjoys reading and her favorite book is Sherlock Holmes by Arthur Conan Doyle. Nana also enjoys dancing and acting and playing basketball.
Finali Galaiya – Kenya
Finali is continuing with her studies to be a Chartered Accountant and is currently an Entrepreneur and a Television Presenter. She also has diplomas in Acting, Martial Arts, Yoga and Dance. Finali enjoys travelling, swimming, reading historical novels and public speaking and has a special talent for debates and baking.
Rubiato Nhamajo-Guinea – Guinea Bissau
Miss Guinea Bissau is 24 years old and has studied Tourism and Child Care and is continuing her studies with the hope of becoming a successful Business Woman and owning her own Beauty and Spa salon. She enjoys reading, singing, cooking and visiting the gym. Rubiato's proudest moment was when she carried out her charity projects with children in her home country.
Anne Murielle Ravina – Mauritius
23-year-old Anne is a graduate of the University of Mauritius. Anne is currently working as an Administrative Officer in a Finance and Legal firm. She has ambitions to enter into politics. Her proudest moment was when she got a distinction for her dissertation at University. She enjoys playing the guitar, painting, writing and dancing.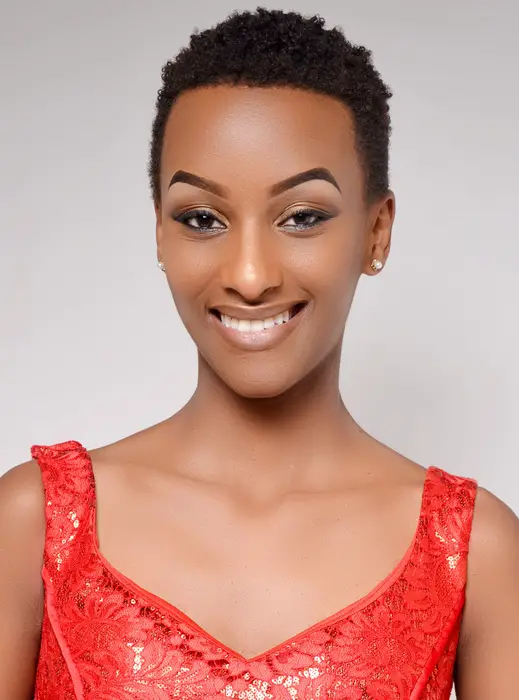 Liliane Iradukunda – Rwanda
19-year-old Liliane's proudest moment was when she graduated from High School, she then went on to study tourism and is currently working for a company and focusing on her work as Miss Rwanda. She enjoys getting involved in community work, running and socialising with friends. Liliane has a special talent for drumming and Rwandan traditional dancing.
Rethabile Thaathaa – Lesotho
21-year-old Miss Lesotho 2018 is currently pursuing a Bachelor of Commerce in Marketing. Rethabile has ambitions to become the Minister of Tourism, Arts and Culture. She enjoys swimming, reading, dancing and baking. She also plays the drums and does contemporary dancing. Rethabile has a talent for public speaking and designing jewelery.
Miantsa Randriambelonor – Madagascar
20-year-old Miantsa is currently studying for a Master's Degree in Geodesy and Cartography and her dream job would be to be a Land Surveyor. She enjoys playing volleyball, chess and Madagascan musical instruments and has a special talent for singing.
Anita Ukah – Nigeria
Miss Nigeria 2018 is 23-year-old Anita Ukah. After completing her degree, Anita is now working as a Medical Laboratory Scientist and hopes to continue working in this field and working as a model. She has a special talent for dancing, especially, pop, hip-hop and traditional African. Anita also enjoys cooking and traveling and comes from a family of nine children.
Aissatou Filly – Senegal
22-year-old Aissatou is currently studying Marketing and Communications and would one day like to create her own event company. She is also modelling in her spare time. Her proudest moment was when she won the best young model award in Senegal. Aissatou's biggest fear is disappointing her parents.
Musa Kalaluka – Zambia
Musa is currently working as a cabin crew member for an airline company, she is also studying and would one day like to become a pilot. Her proudest moment was when she passed her exams and received her Aviation Cabin Crew Licence. She enjoys eating traditional Zambian food.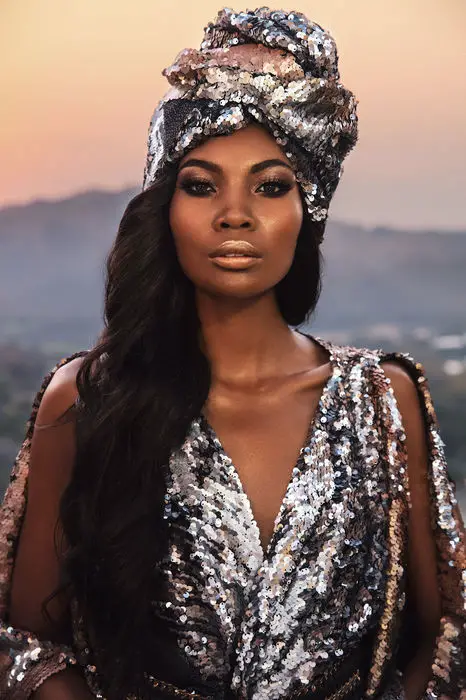 Thulisa Keyi – South Africa
After studying Accountancy, 26-year-old Thulisa is working as a Senior Accountant and would like to continue in her field and one day run her own investment company. She enjoys reading, keeping fit and performing on stage. Pasta and Lobster Thermidor are Thulisa's favourite foods and her favourite book is 'David and Goliath' by Malcolm Gladwell.
Sarah Tucker – Sierra Leone
24-year-old Sarah is a student of Mass Communications and would like to continue her studies and Major in International Relations. She enjoys cooking and playing lawn tennis. Sarah also has a talent for singing and dancing.
Florence Thompson – South Sudan
Florence is 19 years old and is currently a second-year medical student and dreams of continuing with her studies and completing a Master's Degree in Medicine. She would like to specialise in Orthopaedic Surgery and has aspirations of working as an Orthopedic Surgeon. Florence enjoys playing basketball and cooking and has a cat called Mongia and a dog called Cintiya.
Queen Elizabeth Mukane – Tanzania
Having completed a Degree in Public Sector Accounting and Finance, 22-year-old Queen Elizabeth has continued with further studies. Among her hobbies are singing, listening to music and rapping. Her sporting interest is the Long Jump. Her proudest moment was when she led the female parade as a Major in the Tanzanian Military.
Quinn Abenakyo – Uganda
Quinn has completed her Bachelor's Degree in Business Computing. She has a passion for cooking and dreams of becoming a top Chef and a successful Business Woman. 22-year-old Quinn's proudest moment was when she participated in the New York Fashion Week.
Belinda Potts – Zimbabwe
21-year-old Belinda is currently pursuing a Diploma in Animal Sciences and dreams of becoming a successful Veterinary Surgeon. Belinda enjoys playing volleyball, basketball and going swimming. She has a special talent for public speaking and acting and plays the Mbira, a traditional Zimbabwean instrument.
Culled from Face2faceafrica.com