South Sudanese model, Nyakim Gatwech has a color which stuns even Africans. She has been referred to as "Queen of the Dark", "Jet Black" which is a reference to her deep melanin color. At a point, it was even a source of worry to her.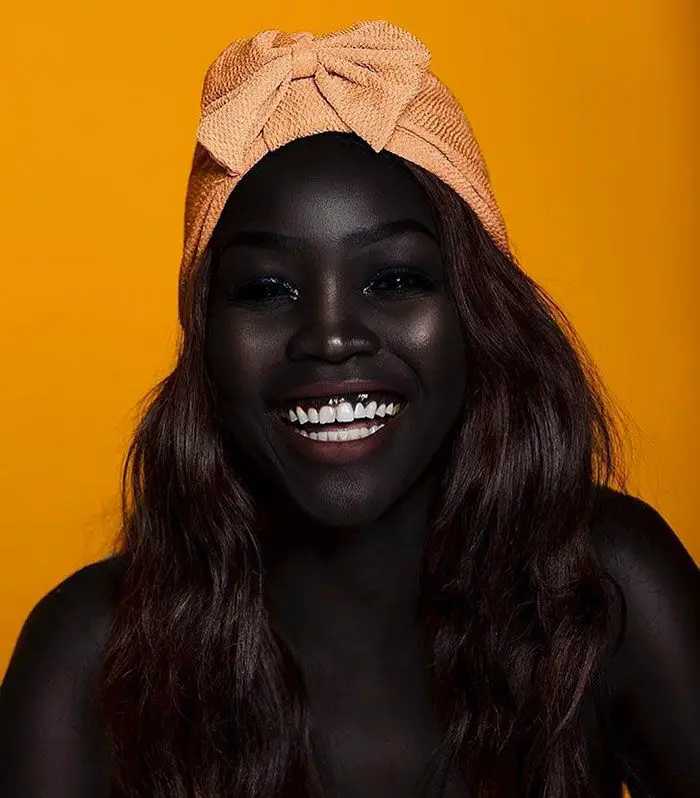 Nyakim Gatwech's parents had to flee the civil war in Sudan to Kenya and then to the United States when she was 14. The Second Sudanese Civil War which took place between 1983 to 2005 displaced more than 4 million people and left more than 2 million people dead including Gatwech's sister and brother.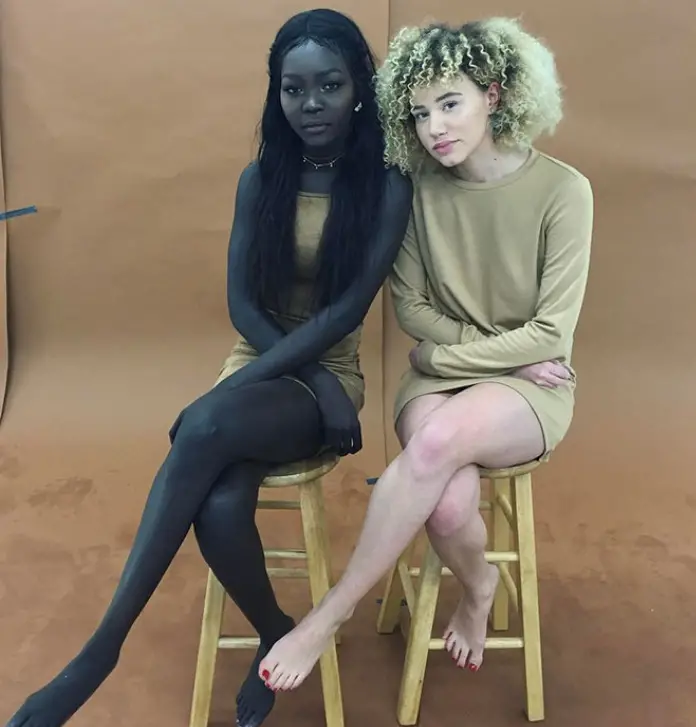 The color of her skin has come with open doors for her, as over the years, she has gotten a huge follower base on social media. She has also attracted cosmetic brands who pay her to promote their products.
Today, she has modeled for fashion notables, including Calvin Klein, Fashion Nova, Aldo and Cosmopolitan. Her love for modelling started while in the refugee camp in Kenya. She had been opportune to read fashion magazines and watch the American Next Top Model.
Nyakim Gatwech has always had the knowledge that her complexion caused quite some stares. When she first started  her university experience in the United States, her course mates and school mates claimed she was dirty. An Uber driver even asked what she would do if she was offered $10,000 to bleach her skin.
She said in a quote on Instagram,
I was [asked by] my Uber driver the other day, he said, 'Don't take this offensive but if you were given 10 thousand dollars would you bleach your skin for that amount?'
About the fact that black culture seems to be the in-thing now, she has this to say,
I don't want the industry to think [Black models] are trending. This isn't just a hashtag that's going to last for a certain amount of time. When this 'trend' passes, I'm still going to be this dark, and I want to be able to have opportunities to work. It's up to us to put ourselves out there and remind the industry, and otherwise, that we aren't going anywhere.

The Urban Woman Magazine Editorial Team is made up of seasoned writers and editors who have a keen eye for detail and a passion for all things urban. We strive to create fresh, original content that appeals to the modern woman. Our mission is to provide a platform for women to share their stories, experiences and opinions on various issues affecting their lives.