Hiii! So I will give a brief introduction about myself. I am Elsie Ogianyo, a young 20 something year old living in Lagos. That's pretty much all. (Very detailed and straight to the point Ha.Ha) Let's talk about NYSC (National Youth Service Corps. More like National Youth Suffering Corp). I got posted to Benue state on the 22nd of March 2019.
I remember checking my dashboard on my way home from work and fighting back tears inside the Danfo bus I was sitting and thinking, why do bad things happen to good people. I did NOT WANT to go to Benue state even though I certainly did not want to serve in Lagos, I was hoping for Ibadan or Ogun state.
The following day which was a Saturday, I headed to Yaba market very early in the morning to buy the things I needed, I bought 4 white shorts, 2 pairs of rubber white shoes and 3 white shirts along with some provisions and toiletries. It was hectic. I had to start packing in time because we were to report to camp on the 29th of March 2019, which was a Wednesday but I planned to leave for Benue a day before since I was going by road and I did not want to arrive camp in the night. The plan was to sleep over at a family friends place which was a town away from the camp, and then head to camp the following morning.
My parents dropped me off at the park at Ikeja very early on Tuesday morning at about 6am. My dad bought a ticket for N6000 and by 7am we were on our way out of Lagos.
The journey started off well although the bus was very cramped, I was pretty okay where I sat. There were other Corpers in the bus as well and the conversation flowed comfortably between them, I kept to myself for the larger part of the journey because quite frankly I was not happy about going to Benue, so I figured I would want to save my strength for the journey ahead. We made a few stops to eat and empty our bowels, I tried to keep my eating and drinking light because I did not want to uncomfortable in any way.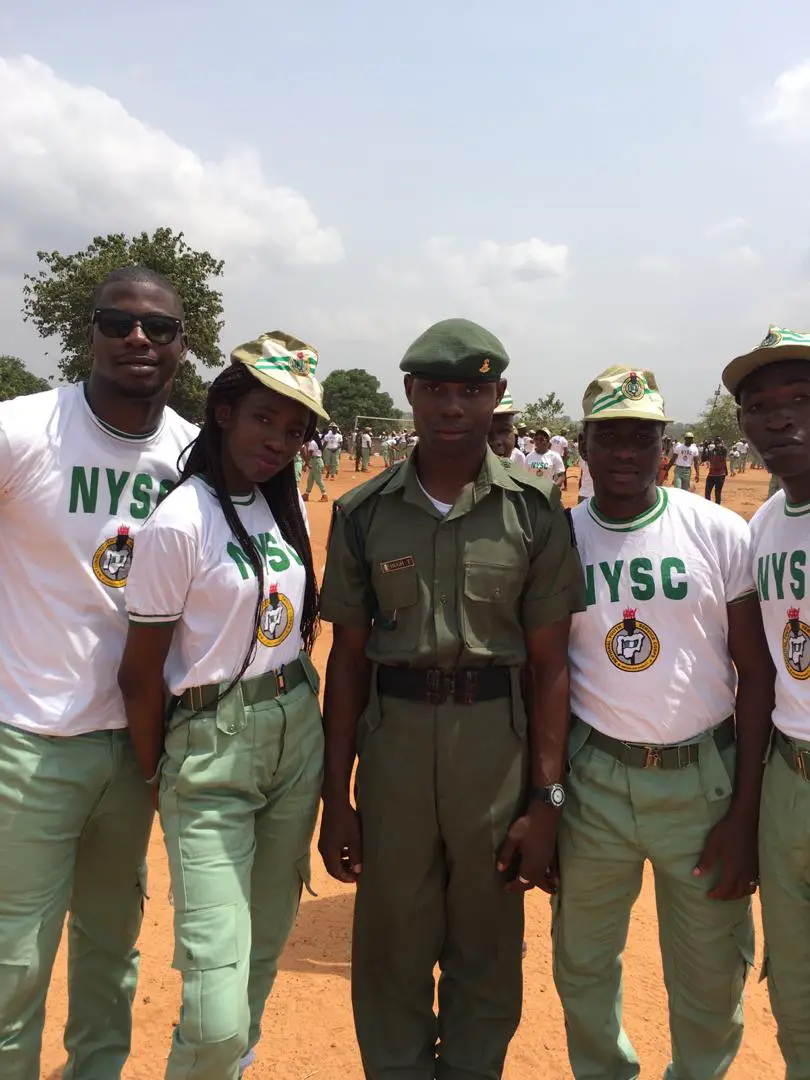 There were a lot of checkpoints along the way and that delayed us a lot. The real problem started when we got to Vandeikya in Benue state at about 6pm and the driver said he was not going anymore to the agreed location, that he was going to Jalingo with some other passengers in the bus, he told all of us corpers going to Wannune Camp to alight so that he would put us on another vehicle. I was upset! Where is this done?? That was how the driver settled our new drivers and we were squeezed into 2 cars and we continued our journey.
I arrived in Gboko at about 8pm and my family friend came to pick me up from the camp, I was taken to their house, where I was to spend the night. The following morning at about 10am I headed to the park to pick a commercial car to Wannune camp which was about 30 minutes from Gboko town.
On arriving camp, I had my box checked, got my mattress then dropped my things in the hostel which was not as bad as I thought it would be. I began my registration which started with no hassles at first until it was my turn and the man checked my documents and informed me that I could not be registered. Eh? You say what? He said the medical fitness document I presented was unacceptable and I have to bring an original document from a hospital. I looked at him in confusion and asked him where I was supposed to get that from as we were smack dab in the middle of a village, He suggested that I ask my colleagues or go to the health center outside the
camp somewhere in the town.
I was confused, this was around 3pm and I was sure that there was no way any health center in small town like that will be open by the time I was able to locate it.
Anyway I found a way around it, as a smart girl. Before I completed the whole process of registration and opening bank accounts, it was well past 9pm and at this point I was completely exhausted.
The following morning I was up by 2am, some kind-hearted girls who I just met woke me up to start preparations for parade which was to start at 4am, but because of the popluation, it was better to wake up early and get water before everyone else was awake. The cold was bearable but I would have sold a limb for warm water still.
At 4am, we assembled at the parade grounds, where we were briefed, told the rules of the camp, what to expect and taught the Nysc anthem. This was pretty much our routine throughout our stay in camp. Overall The hostels were not that bad, a far cry from what I was expecting. There were
about 9 bunks in my room, which means we were about 20 girls there. I pretty much kept to myself until much later when I made friends.
The most annoying thing about camp were the parades, I Absolutely hated it! I joined Red Cross so I could evade matching and I got away with it! Yaaay me! I only started to enjoy camp at the end of the Second week, when we started having social activities almost every evening, those were fun and I looked forward to watching other corpers entertain us or make a fool of themselves. I liked going to mami market too, for the sights, smells and of course to eat.
I made a few friends too from my platoon, who I am still in touch with till date. My last day in camp was the day I looked forward to, I picked up my posting letter and I found out I was posted to a small town called Ugbokpo in Benue state. I wanted to report immediately to my place of primary assignment which honestly in retrospect was highly unnecessary, I really should have left for Lagos immediately.
I stayed in that town to do my clearance before I headed back to Lagos. I was eventually reposted to the capital. Overall my Orientation Camp Experience wasn't bad, but I still wouldn't want to go through it again.
What was your camp experience like?