No doubt, 54 year old Mo Abudu is one of the most successful women in Africa. Regarded by many as the "Oprah Winfrey of Africa", she has built a successful business in the media.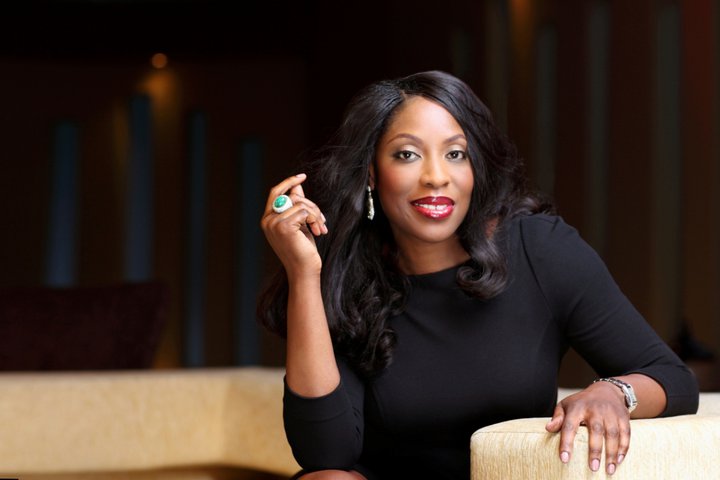 Born in the United Kingdom, Mosunmola Abudu who lost her father at the age of 11 spent her early years there before moving back to Lagos Nigeria with her family at the age of 7. On getting to Nigeria, she attended Fiwasaye Girls Grammar School and later went on to attend Ridgeway School, Mid Kent College and West Kent College in the United Kingdom.  Later, she got her Master's degree in Human Resources Development from the University of Westminster in London.
Soon enough, her career kicked off. First as a recruitment consultant in 1987 with Atlas Recruitment Consultancy Firm in the United Kingdom.  After rising to the position of Branch Manager, Mo Abudu moved to Starform Group in 1990 where she was responsible for research, design and production of several conferences and seminars.
She returned to Nigeria and worked for Arthur Andersen in the capacity of Head of Human Resources and Training for Esso Exploration & Production Nigeria Limited (Exxon). Almost a decade later, she resigned to start her own firm, Vic Lawrence & Associates Limited, one of Nigeria's leading Outsourcing firms.
The journey to starting Ebony Life Television was not a day's one, as Mo Abudu who hails from Ondo State, Nigeria, launched Ebony Life Television at Tinapa in 2013. Today, Ebony Life is worth over 2 billion naira and has over 15 million viewers in 44 countries including the United Kingdom and the United States. In 2013, she was given an award by Forbes as the first African woman to launch a Pan-African TV Channel. She was called "Africa's Queen of Talk" as her television program, "Moments With Mo", has hosted impressive personalities. The show has even hosted the US Secretary of State, Mrs. Hilary Rodham-Clinton, when she visited Nigeria. Today, the television show has diversified to have a youth platform, called Moment Z. On what propelled her to produce the talk show, Moments with Mo, she details how she noticed that there wasn't a single Pan-African talk show at the time, and this was the gap she hoped to fill with Moments with Mo.
According to her, the passion to shape the narrative of Africans came at a time when she was very young and living in the United Kingdom. In her interview with Forbes, she says,  "I had to learn to stand up for myself, to defend my identity and my race in an environment where you continually got asked the most ridiculous and mind-boggling questions like "Do you guys live in trees and holes in Africa?" "Do you guys dance around fires?" "What do you eat for breakfast?"". This fuelled a desire in her subconscious to one day change the narrative of Africa.
"EbonyLife TV creates content that speaks to the continent's most important demographic, the custodians of the present and of the future, the youth aged 18 to 34. We believe no one is speaking to this key demographic of the continent the way we do. This is a demographic that is extremely passionate and confident; tremendously creative and global-minded. It is one that craves a platform for self-definition and self-expression; one that sees a different Africa, an Africa that tells its own story through the showcasing of the continent's best talents, from lifestyle and entertainment to fashion and music, education, information, love and relationships." She says.
Recently, Ebony Life expanded their broadcasting media to includ the StarTimes network (Satellite 191 and Digital Terrestrial 107), ending their exclusive arrangement with DStv.
Ebony Life and Vic Lawrence are not all Mo Abudu is set on, as she is a co-owner of 5 star hotel, Protea Hotel, Oakwood Park, Lekki Expressway, Lagos. The hotel is set on over a hectare of land and boasts of the best conferencing and leisure facilities.
Mo Abudu is also a philanthropist as she has a foundation called Inspire Africa Foundation which is in partnership with Moreno Construction. It has completed a one hundred bed home for street children in Lagos.
In 2014, on her 50th birthday, she launched the Ebony Life Sisterhood Awards. When asked about the awards, she said, "We recognize awardees based on their demonstration of excellence, commitment, innovativeness, integrity, and national impact."

The Urban Woman Magazine Editorial Team is made up of seasoned writers and editors who have a keen eye for detail and a passion for all things urban. We strive to create fresh, original content that appeals to the modern woman. Our mission is to provide a platform for women to share their stories, experiences and opinions on various issues affecting their lives.