First off, Skinny Girl In Transit Season 5 Episode 1 was released last week and though I pointed out earlier that I did not understand why exactly we need a Skinny Girl In Transit Season 5, Ndani TV seems to be intent on keeping us glued to our screens with Tiwa and Mide. My only hope, is that it doesn't drag.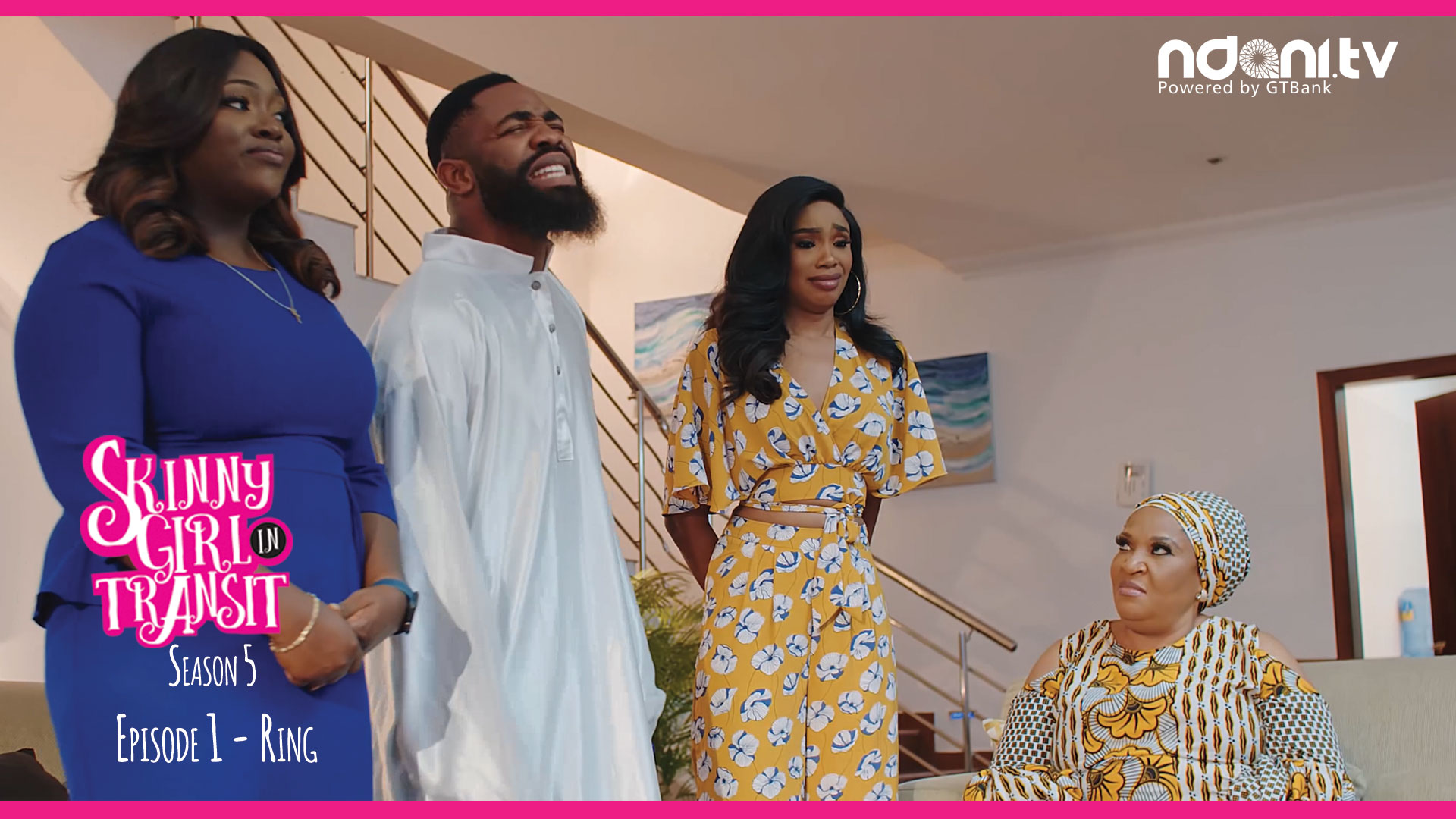 The 1st episode of SGIT Season 5 definitely did quite well in keeping us in suspense.
Plus there was an introduction of a new character, Nick Mutuma. I mentioned earlier that he was going to be introduced this season, so I wasn't surprised.
However, with the way he was introduced, should we be expecting another love game between his character and Derin played by Beverly Naya?
Also, I think the phone call which Mohammed received in Salewa's presence would be the bedrock of their relationship problems this season.
Let's talk about how Tiwa lost her ring. I have to give it to the show runners. I never guessed that maybe Mide took it from her.
He took it back from her with Salewa's help and then, he proposed again. Recall, that in the finale of season 4, Tiwa had woken up to find a ring on her finger. So, this time, Mide wanted to do it the right way. Mide is such a romantic young man, I wish I could snatch him from Tiwa. So much for women helping women. Lol!
By the way, Mide met Tiwa's father and he is getting ready to introduce his parents to Tiwa's parents.
Hahahaha…Tiwa's father asked Mide if he had been "a complete gentleman" with her and he stuterred. Lol! In plain lingua, he asked if they have been copulating, rolls eye, I mean having sex.
Lol! Have they? Well, outside her house, Tiwa made reference to sex with Mide when she said, "Do you call what you did the other day, being a gentleman to me?" and Mide replied, "It is not my fault, I cannot resist you!"   Shhhhh…don't let Tiwa's parents find out. We can't risk them finding out that their 30 year old daughter is not a… *lips sealed*
Episode 2 promises to be even much more interesting and suspense filled. But while we are waiting on it, watch Episode 1 below.
By Blessing Iyamadiken
Read Also: Khloé Kardashian And Tristan Thompson Cheating Scandal: A Breakup May Be In The Works