After Melania Trump's plane was forced to make an emergency landing, on Wednesday morning, President Trump has taken a moment to praise Melania Trump for keeping her cool during the emergency. Melania Trump's plane had to make an emergency landing after the aircraft suffered a "mechanical issue".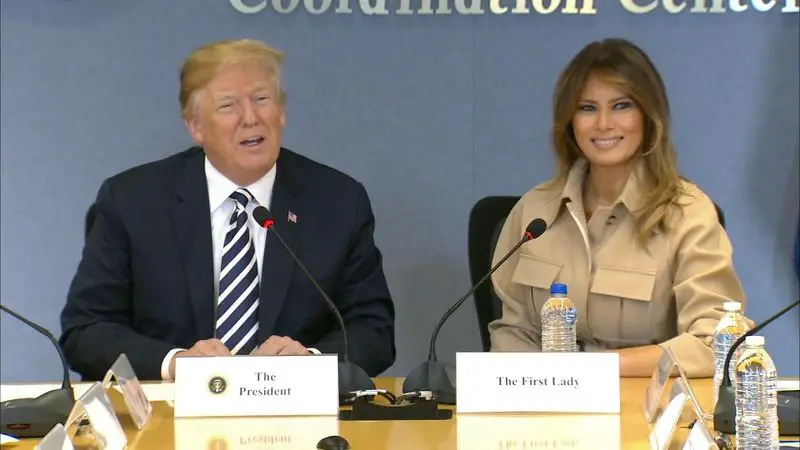 Read Also: Girl Serves Classmates Homemade Biscuits Made With Grandfather's Ashes
Smoke filled the cabin and passengers could smell something burning during the flight.
The pilot had told the air traffic control that they were having a few issues, and requested that they be allowed to turn back and go to Andrews.
The pilot had said,
I'd like to turn around and go back to Andrews. Can you co-ordinate that for us?
the air traffic controller replied.
Executive One Foxtrot. Roger, cleared to Andrews airport,

Do you require any special assistance?

No assistance required at this time. Thanks.
the pilot said. 
After the plane landed and passengers scrambled for safety, Mrs. Trump was among the last to leave the aircraft. She then continued her journey aboard another plane.
President Trump took a moment to praise his wife at a rally in Montana on Thursday night.
I asked, 'How was she? Was she scared?' 'No sir.' 'What was she like?' 'She was so cool, we couldn't believe it.' Everybody else had cloth on their face and I probably would too — cloth that was water — wet. She sat there, 'Hey, what else is new'.
he said. 
He also spoke about his wife's decision to wear a pith hat on her trip to Africa. Many people had considered her choice of dressing to be a symbol of colonialism.
However, President Trump debunked such rumors saying,
They said it represented a colonialized nation. And everybody's trying to figure — I think it came out of Los Angeles. I think they actually bought it in Los Angeles. But they love the job she's doing.
Read Also: Eunice Atuejide Is The Founder Of The World's First Online Political Party, National Interest Party

The Urban Woman Magazine Editorial Team is made up of seasoned writers and editors who have a keen eye for detail and a passion for all things urban. We strive to create fresh, original content that appeals to the modern woman. Our mission is to provide a platform for women to share their stories, experiences and opinions on various issues affecting their lives.