Pastor Ayo Ajani of the Petra Christian Centre has admitted to inappropriate sexual behavior despite his position as the Senior Pastor of the church. The behavior borders on sexual harassment of some of his female members, causing some of them to have left the church in the past as they could not come to terms with the fact that someone they had trusted as spiritual leader could be capable of such actions.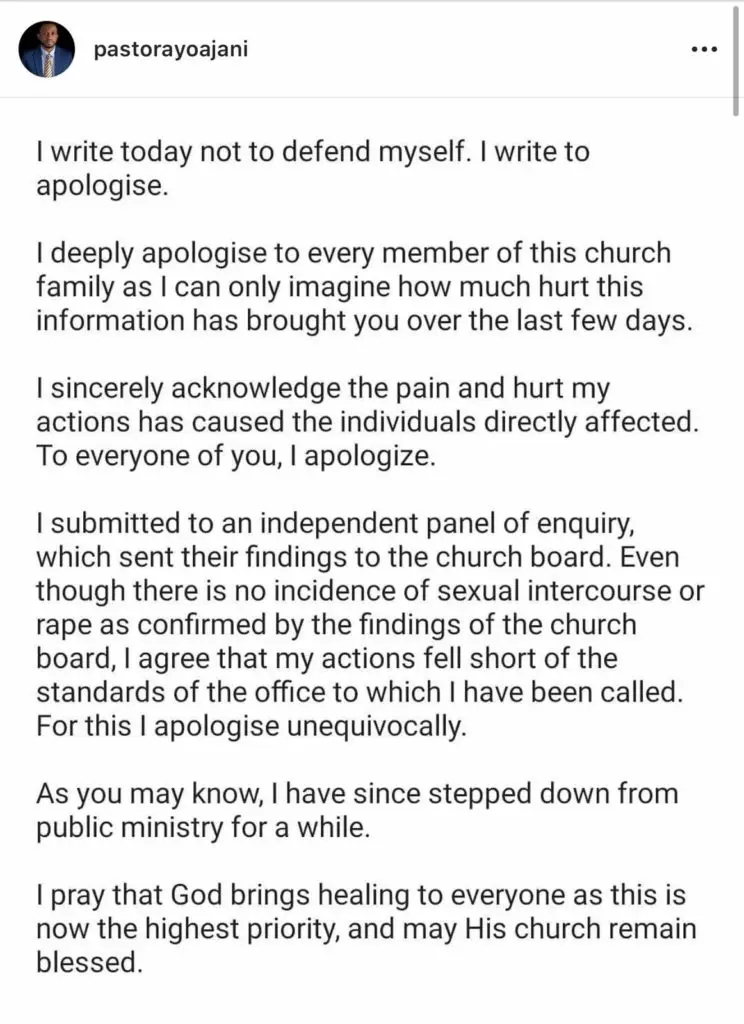 His admission in a now deleted Instagram post, came after he was called out on social media. The accusations which took the Twitter community by storm was championed by Twitter user Lamimoyin.
Attention everyone. There is a sexual predator and financial groomer on the loose in Petra Christian center @PetraChristianC . His name is Ayo Ajani @pastorayoajani , he's the Senior Pastor.

Attend this institution at your own peril. https://t.co/98dyfAi7KY pic.twitter.com/mIlKplkChK

— Lam Lam (@Lamimoyin) June 1, 2020
This things keeps happening over and over again. When you report to him to people who answer to him nothing would be done. That is why a lot ladies left the church without any explanations because the so called jr pastors you reported to swept it under the rug

— charell (@chariedom) June 1, 2020
While many have poured in accolades to the Pastor and his church community for coming up with their "speedy resolution" of the issue, it is important to note that Pastor Ayo Ajani's actions and abuse of power would never have come to light without these women coming out, and so, he most likely would have continued his predatory behavior.
This is however, a step up from the usual, as we are still awaiting Pastor Biodun Fatoyinbo's admittance of the numerous rape incidents he has been accused of, and consequently, his step down from the leadership of COZA.
I am sure that this will not in any way impact the followership of Pastor Ayo Ajani as we know that the Christian community is not largely made of objectively thinking individuals. They would most likely be borrowing a leaf from the followers of Pastor Biodun Fatoyinbo, who would "stan" him to their death regardless of the next heinous crime he is accused of.
Read Petra Christian Centre's internal memo to their members below.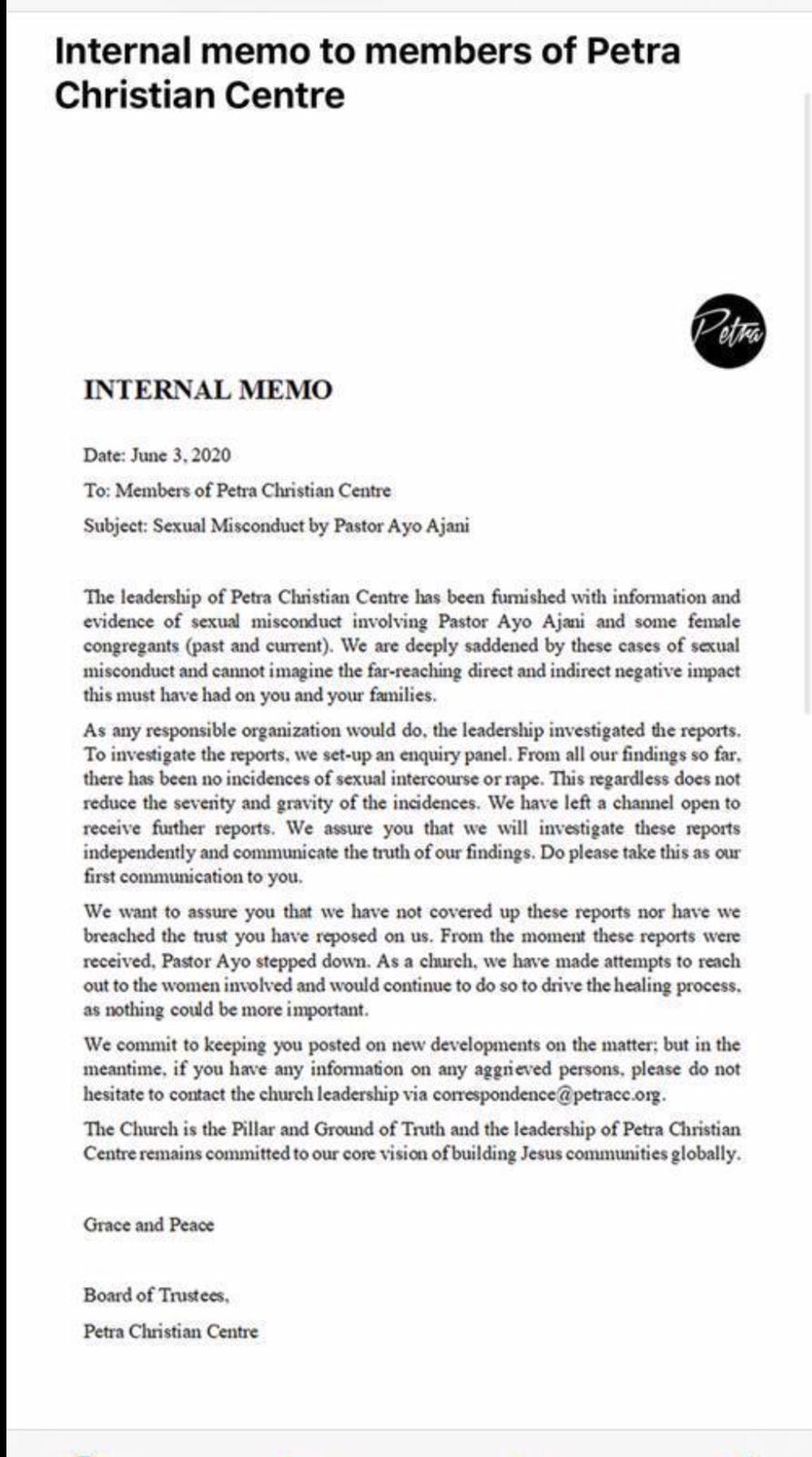 View the Instagram post below. Swipe left to also see the latest communique:
 

View this post on Instagram

 
Have you been affected by the issues discussed within this article and would like to seek help? Please send an email to

[email protected]

 
Blessing Iyamadiken is a media and marketing specialist with 4 years experience in the industry of digital marketing, publishing and advertising. She is also a feminist and very passionate about Gender Equality. In her spare time, she loves to read or binge on Netflix.